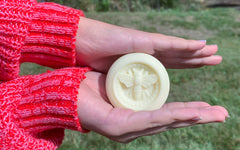 Wren & Rita solid lotion bars are made with 5 simple ingredients; Coconut Oil, Beeswax, Shea Butter, Cocoa Butter, Vitamin E. This combination offers the perfect amount of moisture for your skin without leaving a sticky mess. It quickly absorbs and leaves your skin feeling smooth and hydrated.
Coconut oil is made from the kernel of mature coconuts harvested from coconut palms. 
Shea Butter comes from the fruit of the Shea (karite) tree. We use a pure, 100% natural, unrefined shea butter sourced from Baraka Shea Butter.
Cocoa Butter comes from the cacao bean, giving it its distinct chocolate scent. After the bean is dried and roasted it is pressed to extract the vegetable fat (cocoa butter). What remains is then ground to become cocoa powder. 
We selected these components because they contain a high concentration of vitamins, antioxidants and moisturizing properties. Together they blend into the perfect lotion bar, free of water, additives or colorants. We add a natural premium beeswax to solidify the oils into a bar. Vitamin E is also added as a natural preservative to extend the life of the lotion bar.
Our solid lotion bar is the perfect size to toss in your purse, backpack, and you'll never have it taken away by TSA! It's great for your hands as well as elbows, heels and any other place that could use some extra love. Our bars are available unscented as well as in a variety of scents.